That was not the way I expected things to happen in the first days. Right now I am laying here in Austria on green gras, right at the lake and surrounded by mountains. That's were I will sleep tonight. So far I am surprised how well everything went. So relaxed it will not be the whole time, I am thinking while I am watching the sun going down – and I will be proven right very soon.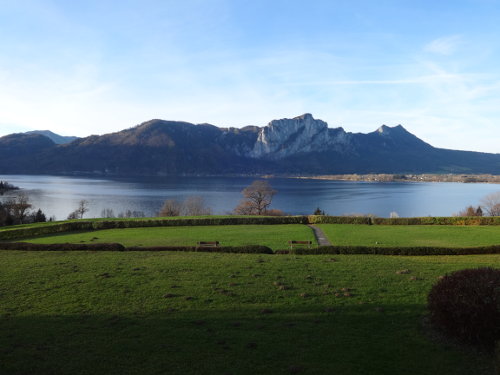 From my hometown Ochsenhausen I made it to where I am now in Austria within only one day and only three cars. Thinking back, I have to admit that there also was some unease to leave comfort life behind for the coming period. It hasn't been an all round easy step to do. Not knowing where to sleep, what people I will meet and what happens next. No fridge that is ready to provide me with food. All my supplies and possessions I am carrying on my back.On the other hand my picnic is tasting all the better: bred, cheese and tomatos. Comfort swapt against adventure and uncertainty!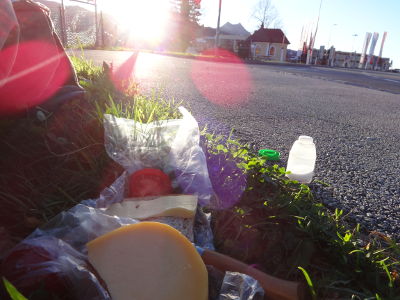 Around half 9.30am I started my journey by walking to a bus stop in my hometown Ochsenhausen. It was a strange feeling hitchhiking from my local bus stop. Honestly I renounced after only 10 minutes: "Whatever I will take the bus to the Highway". Just when I wanted to sit down to wait for the bus a car stopped by and the driver was waving me over to him.    Surprised I open the car door and asked the Young Driver, where he was going to "Where do you need to go?" he responded. I told him and he agreed to take me there. Actually he didn't need to go exactly there but he said "I am bored anyway so it's no problem!" There for he drove me to the highway in Memmingen where I just stood at the motorway Access. Not an ideal spot but weather is awesome anyway and I will see how it goes. After about 10 minutes a van stopped and Sidri the Driver of a film making company agreed to take me right to Munich!

Sidri was a very cool guy and he was even going a detour just to drop me of at a good spot again. So I got after Munich on a petrol Station on the way to Salzburg. Great spot! After a Little break I started to ask people where to they were going. After about 15 minutes Peter, an Austrian pastor, that was doing development work in Congo for already 45 years, agreed to take me to Salzburg. Peter
was a calm and serene man, who was at the age of 70 years suprisingly active. Already when he was Young he always wanted to make the world a better place and I was impressed by his consitant implementation. I also couldn't stop him to bring me even further than to where he was going: "I have some free time on my hand and I want you to have a good spot to continue." ´So he dropped me off at the motorway Restaurant called "Mondsee" (moon lake) where I gave thanks to him. It seemed to be a naturalness for him to go a detour of 40km.. At this nice place I got out my food again, leaned against a road sign and enjoyed the still very warm sun and the feeling of freedom that was coming over me.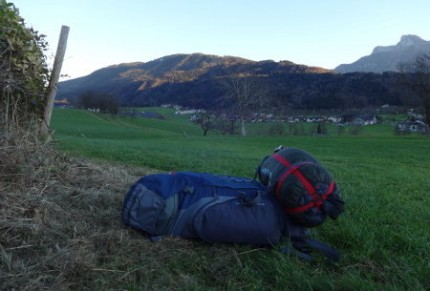 After I had lunch I decided to look for a place to sleep even if it was only 3pm. I already made a good distance and knew it will get dark quite soon. I walk around a little bit and found small path going away from the road and leading to green field at the lake. I walked it down and were sure that I found my place to sleep!
The first night in the tent was less comfortable than in my bed but the feeling after waking up while seeing that nature was totally worth it!