Since I saw the sanddunes the day before in Shan-Shan, I was determind to go there. The next morning I woke up in my tent. I was still on the way hitchhiking in China. I crawled out of my tent and ate the water melon I got the evening before while two middle-aged women curiously inspected my tent. I smiled and showed them the inside of the tent. After the left one of the women came back with a 50 Yuan note. Friendly but decisively I refused. Hereupon she just put the note on my matress, smiled and left.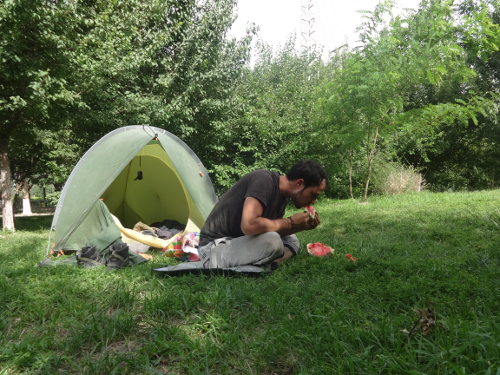 Nach dem Frühstück machte ich mich auf die Sanddünen zu finden. Sie gehörten zur sagenumwobenen Taklamakan-Wüste – die zweitgrößte Sandwüste der Welt (nach der Rub Al-Chali in Saudi Arabien). Der Name"Taklamakan" kommt mutmaßlich aus dem Uigurischen kommen und kann übersetzt werden mit "Begib dich hinein, und du kommst nie wieder heraus". Ich startete zu Fuß und wurde dann von dem Fahrer eines seltsamen, aber in China üblichen, kleinen Dreirad-Lasters mitgenommen.
After the breakfast I went on my way finding the huge sanddunes I saw the day before. They were part of the legendary Taklamakan desert – the second biggest sand desert in the world (after the Rub Al-Chali in Saudi Arabia). The name "Taklamakan" may come from Uyghur language meaning "Enter it and you'll never come back".
I started walking and got picked up by the driver of a small and strange motorized vehicel.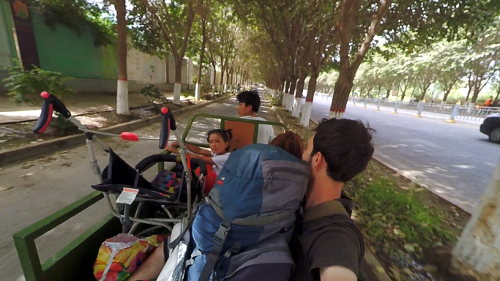 The driver dropped me of next to a young quad driver.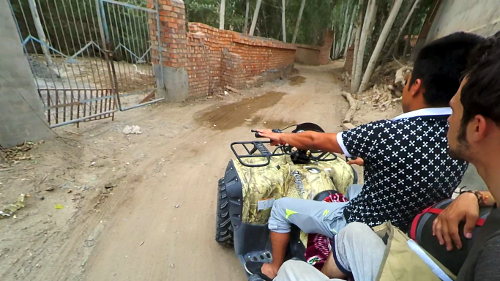 He didn't speak a lot of English but he understood I wanted to go to the desert. He could bring me there. We just had to talk about the price. In the beginning he wanted 100 Yuan (around 15€) or even better dollars. Whereas I pulled out a 20 Som note (around 0,30€) from Kyrgyzstan and made it tempting for him. Additionally I gave him a coin from Azerbaijan. I tried to make it only with the coin but he wanted both of them and I agreed.
With my backpack I sat on his quad and we drove through the village. Passing the official entrance where you have to pay money to see the desert. However, he knew what he was doing. He drove through the small alley and hidden corners, passing old historical clay building. I was fascinated by the authentical village life. On the way he stopped next to an old woman laying on a bed in front of a building. Finally he arrived to his home. We drove into the yard and behind the backdoor immediately the sand desert started. The place without return.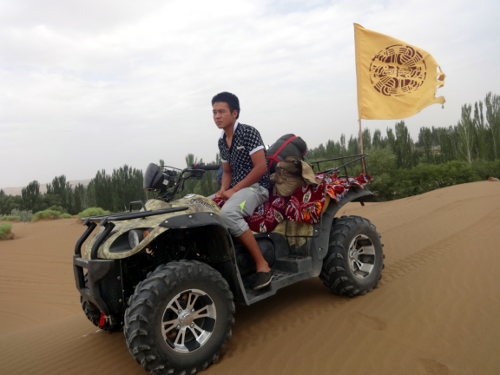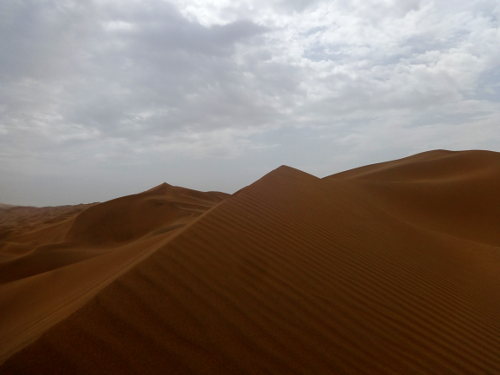 I looked on the huge sanddunes that were surrounding me. Then I just began to march off climbing the dunes. Arrived at the top of one dune I had to take a rest. It was a bit tough with the heavy backpack. In this moment a man with bare upper body waved me over to another, higher dune. The guy was here with his nephew (who was a bit younger than me) and they were about to dig themselves into the sand. An old Uyghur tradition they explained to me. The power of the Taklamakan goes into the body like this. Some people come from far away for this. Then they cover themselves with the sand 3-5 times per day. In this moment an old man was bravely climbing to dune towards us. "He did this many years (covering with sand)", the younger one said, "that's why he is so strong". They offered me to cover me with sand as well. First I hesitated. I didn't want to be full of sand while hitchhiking. Then I agreed and took off my shirt. I laid down in the sand and they started to put the warm sand on my body. Immediately to sand sticked to my body. "That means have had an exhausting time recently and now your body gets new energy from the sand.", the younger guy explained while I felt the warm sand on all my body. I imagined streaming energy entering my body through the sand. It felt warm and comfortable and I felt my body relaxing. Afterwards they explained me I should shower for at least three days now.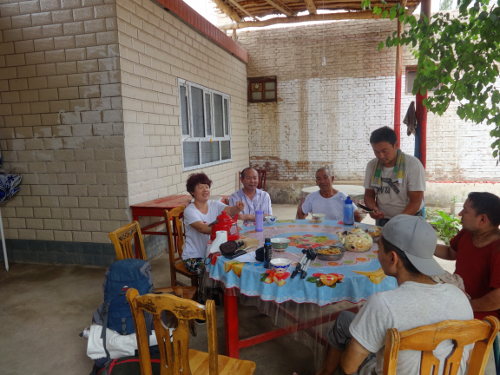 They invited me to their place where I was joyfully welcomed. We ate lunch and drank tea. The oncle and his nephew tried to convice me to stay here for another day. They explained me that the owner said I could stay in a room for free. I was amazed and thanked them but I felt like I had to move. Unfortunately my time was short.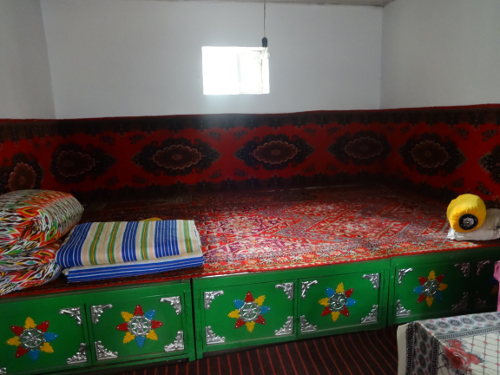 The offered free place that I refused
They drove me to the highway and I climbed through the barb wired fence.
That day I still made 200km distance until it was dark. The police helped me again. Unfortunately my last ride was going off the highway, so I had to stop and get out of the car. In the dark night I stood on the highway trying to wave down a truck or a car. The strong headlights blinded me and the big trucks bombed along just less then a meter away from me. "If I don't want to die here I better stop now.", I told myself and left the highway to the desert. On the sandy ground a couple of meters away from the road I put up my tent on the sandy ground.